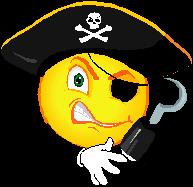 Several weeks ago I decided to walk my husband through the Mango Languages resource that is available via the WPL digital branch. Much to our surprise, one of the available languages was "Pirate." Yes, pirate! Since I'm always up for a laugh and wanted to prepare for this month's Talk Like a Pirate Day, scheduled for September 19, I dove in (walked the plank?) and began my pirate language training.
While this sounds like pure fun and games, I have learned a great deal about the Mango site, in just a few short hours, by practicing my ARRRRs. I've not only learned standard pirate words and phrases like "Shiver me timbers!" and "Avast!", but have learned several terms that relate purely to being at sea, read some bad pirate jokes, and have been exposed to "culture" notes and usage instructions. For example, the usage instructions reminded me that the phrase, "Blow me down" is entirely different from telling a fellow pirate to, "Blow him down!"
Most importantly, I've learned that the Mango site is a truly user friendly way to learn a new language. Brush me barnacles, I might turn into a swashbuckler yet. How about you? Belay yer carousin' and join me.
Share this post: