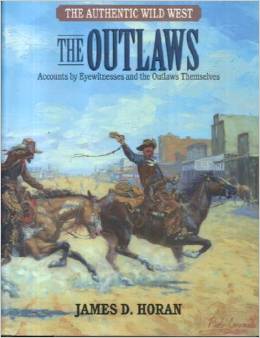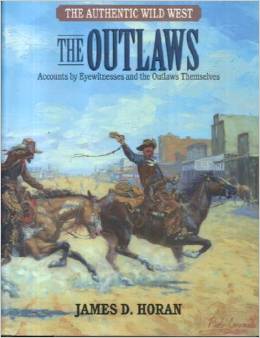 The Summer Reading program Singing Wires.
If you were a fan of The Last Kind Words Saloon, written in tribute to the larger than life gunfighters Wyatt Earp and Doc Holliday, highlighting their shootout at the O.K. Corral.
On the non-fiction side, The American West has an impressive scope, detailing the three groups which collided on the frontier: the Native Americans, the settlers, and the ranchers. The chronology of events and bibliography he has provided can lead to further worthwhile exploration of American history.
The rowdies and those who were not living up to the "Cowboy Code" often found themselves on the other end of the law, since their livelihoods included bank robberies and cattle rustling, for starters. Who were these men (and women) who seemed larger than life, their escapades almost a myth—but possessing real fears and insecurities?
A few of the stories can be found in The Outlaws by James D. Horan. Did you know that Jesse James' blacksmith, James Dewar, shod the James brothers' horses with "backward facing" shoes? This was done so it would always appear that the James gang was going in the opposite direction! You will find other interesting facts in this book about
"Blood Brotherhoods" and "Outlaw Bands." I hope you saddle up and come into the library soon!
Share this post: