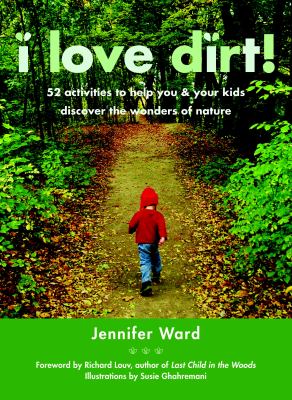 With the beautiful weather on Easter weekend and my adult daughters both home for the holiday, we were together able to enjoy several hikes on nearby trails.  Nature walks have been a key part of family recreation for us all along.  As I walked behind my daughters, now very much taller than I, memories of chasing after them along the same paths when they were toddlers came rushing back.
I've always believed in the importance of letting children freely explore the outdoors, and not only for the exercise.  Gaining a greater appreciation for the environment, lowering stress levels, and developing a deeper level of curiosity and a sense of wonder, are all benefits from being outside.
If you and your children are new to spending time in the great outdoors, we have a book available here at the library, I Love Dirt by Jennifer Ward, which gives ideas for 52 open-ended activities to help you get started in your exploration.  From seeking out and observing spider webs to observing nature up close with a magnifying glass, these are all fun, simple activities that provide a greater appreciation of the outdoors.
I've recently found an online resource that's great for anyone – children and adults, alone or with family and friends – who wants to find nearby walking trails and forest preserves.  Discover the Forest is a campaign run by the USDA Forest Service that aims to help families reconnect with nature.  My favorite part of this website is a search engine that allows you to enter a zip code and search for nature parks, forest preserves and outdoor activities near you.  I tried putting in Westmont's zip code and found dozens of places to go within 15 miles of here.
This summer, make it a point to turn off the television, put away the smart phones and tablets, and see the natural areas that our suburbs have to offer.
Share this post: